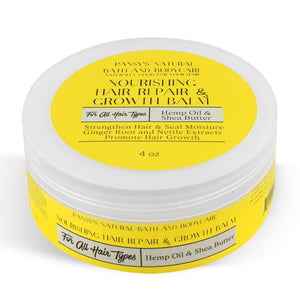 We know what textured hair clients want - bouncy, natural curls with definition (and moisture!). But persistent dryness and heat damaged hair is often difficult to manage. From hair loss, frizz and breakage to split ends, to unruly tresses, the problems are endless. We have sourced ten of the best natural oils and root extracts into a multi-task formula that over time will recondition the hair and support healthy natural growth, reducing inflammation and bringing heat damaged locks and itchy scalp back to health.
Cedarwood, chamomile, ginger, nettle, rosemary, thyme, tea tree, lavender, neem and lemongrass - this lush botanical medley is almost too good to handle, but if you can swing it, your hair will thank you.
You'll love the heat protection this lightweight balm delivers, but you'll also like its versatility. It can go on wet or dry hair (the ideal option when you want to use your straightener for a quick touch-up on second-day hair) plus it even works as a daily leave-in conditioner, too. It delivers intense moisture to hydrate and soften thick or coarse hair and works miracles when it comes to untangling even super stubborn snarls, no matter which way you use it.
When overwhelmed by thermal damage, thinning, flyaways, changes in texture, dullness, tangles and knots, remember that cutting it off is not the only option! So before grabbing that dreaded pair of scissors, you owe yourself to try our Nourishing Hair Repair & Growth Balm once.
Hair Types: Great for Wavy, Curly and Coily Hair. 
Hair Texture: Great for all hair textures -  Fine, Medium and Thick Hair.
Conditions dry, damaged hair.
DIRECTIONS: Section hair and apply sparingly to damp or dry hair. A little goes a long way. Can be used for daily moisturizing, protective styling, scalp hydration and as a heat protectant for pressed styles.
Ingredients: Cera Alba (Beeswax), Helianthus annuus (Sunflower) Oil, Cocos nucifera (Coconut) Oil, Butyrospermum parkii (Shea Butter), Oryza sativa (Ricebran) Oil, Helianthus annuus (Organic Sunflower) Oil, Cannabis sativa (Organic Hemp) Seed Oil, Simmondsia chinensis (Organic Jojoba Seed) Oil, Olea europaea (Olive) Oil, Vitis vinifera (Grape) Seed Oil, Glycine soja (Non-GMO Soybean) Oil, Tocopherol (d'Alpha Vitamin E) Oil, Vitginia Juniperus virginiana (Cedarwood) Essential Oil, Chamomilla rectita (Chamomile) Extract, Zingiber officinale (Ginger Root) Extract, Urtica dioica (Stinging Nettle) Extract, Thymus vulgaris (Thyme) Extract, Lecithin, Melaleuca alternifolia (Tea Tree) Essential Oil, Serenoa Serrulata Fruit (Saw Palmetto) Extract, Cucurbita Pepo (Pumpkin Seed) Oil, Melia azadirachta Seed (Neem) Oil, Rosmarinus officinalis (Rosermary) Essential Oil, Lavandula angustifolia (Lavender) Essential Oil and Mentha piperita (Peppermint) Essential Oil Blend.
`